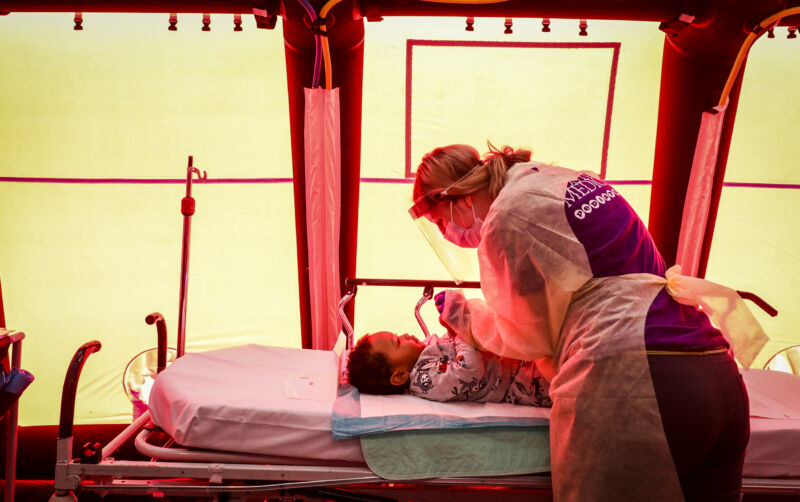 A committee of experts advising the Food and Drug Administration voiced unanimous support Wednesday for the authorization of two COVID-19 vaccines for children under the age of 5. If the FDA authorizes the vaccines, it will mark the first time during the more than two-year pandemic that vaccines against COVID-19 will be available for this age group—the last group yet to be eligible for vaccination.
Although children in this young age group have a relatively lower risk of severe disease and death from COVID-19 compared with older groups, they can and do become severely ill and die from the infection. As of last month, 45,000 children under 5 have been hospitalized for COVID-19 during the pandemic; roughly 50 percent of those hospitalizations occurred during the omicron wave. Of the children who land in the hospital, about 63 percent have no underlying medical conditions that put them at greater risk of severe COVID-19. And about a quarter of those hospitalized require intensive care.
So far, 475 children under the age of 5 have died from COVID-19 during the pandemic, making COVID-19 far deadlier than other diseases we routinely vaccinate young children against, including influenza, measles, chickenpox, hepatitis A, and rotavirus.
"I think we have to be careful that we don't become numb to the number of pediatric deaths because of the overwhelming number of older deaths," Peter Marks, FDA's top vaccine regulator, said today. "Every life is important."
Marks made his comments at the start of today's full-day gathering of the FDA's Vaccines and Related Biological Products Advisory Committee (VRBPAC). The independent experts reviewed data on Moderna's vaccine for infants 6 months old to children under the age of 6 years and Pfizer-BioNTech's vaccine for infants 6 months to children under 5 years.
The committee voted unanimously—21 to 0—in support of the FDA authorizing Moderna's vaccine for infants and young children. In a second vote, they also voted unanimously—21 to 0—in support of the FDA authorizing the Pfizer-BioNTech vaccine for infants and young children.
These votes are the first steps in a four-step process for getting these vaccines into tiny arms. The second step is for the FDA to decide whether to issue authorizations for both vaccines. The agency isn't obligated to follow VRBPAC's advice but typically does, and it is widely expected to do so here, likely by the end of Thursday.
Process
The third step is for the Centers for Disease Control and Prevention to convene its advisory committee of independent vaccine experts, the Advisory Committee on Immunization Practices (ACIP), which will review the data again and vote whether to recommend the vaccines' use. The ACIP is scheduled to meet to discuss and vote on these vaccines Friday, June 17, and Saturday, June 18. If ACIP members vote in favor of the CDC recommending the use of these vaccines, then the fourth and final step will be for CDC Director Rochelle Walensky's endorsement. At that point, administration can begin.
In terms of distribution of the vaccines, the Biden administration has already put up a supply of 10 million doses—some Moderna doses and some Pfizer-BioNTech doses—for states to preorder. If or when the FDA authorizes the vaccines, then those orders can be shipped to states. If all goes to plan, orders of doses are expected to arrive in states this weekend. Assuming Walensky endorses the use of the vaccines, federal officials expect vaccine administration to begin "in earnest" starting Tuesday, June 21—given that Monday is a federal holiday observing Juneteenth.
In the meantime, parents eager to finally get their young children protected against the devastating pandemic virus will have to carefully determine which of the two vaccine options is suitable for their kids. Both vaccines are simply smaller doses of the companies' mRNA-based vaccines already approved for older age groups. But, compared with each other, they have key differences in dosing, timing of doses, efficacy estimates, and side effects.
While VRBPAC members were overwhelmingly supportive of authorizing both vaccines, they also expressed reservations over the Pfizer-BioNTech vaccine's longer three-dose, three-month-long regimen and extremely preliminary vaccine estimates.
Here's a rundown of the two vaccines, the data we have on them, and what VRBPAC members thought.